1. Sekumpul Waterfall
Sekumpul Waterfall is a scenic cluster of 6 to 7 narrow cascades that form the centerpiece of a lush green bamboo forested valley. The falls are fed by 2 streams, and it's the most accessible in the collection of various falls in the area. Getting down here requires some effort, though – paths comprise dirt tracks, a hundred steps and crossings over streams. A trek leads you to purpose-built gazebos where you can cool down and catch your breath while enjoying the view of the 80-metre-tall majestic fall from a distance.
This includes traversing down more steps, with a combination of rice paddies, durian, rambutan and coffee plantations accompanying your journey. Strictly for nature lovers, landscape photography enthusiasts and those with a knack for adventure, the magnificent scenery certainly justifies the approximate 3-hour trek. Several great resorts and jungle retreats in the nearby village of Sudaji often includes this waterfall as a highlight among their nature-based activities.
2. Banyumala Waterfall
The Banyumala Twin Waterfalls in the green valleys of the Wanagiri village in Buleleng, North Bali, require quite a trek to get to. Pathways down to the falls have been constructed over the years to make things a little easier, with steps carved out of the hard soil and with bamboo railings and ladders in some areas along the route.
Called Air Terjun Tirta Kuning (or 'Yellow Water Falls') by locals, Banyumala is a gentle waterfall with steady streams running down its rock face, and two other smaller ones trickling down to its side. At its base is a very clear and shallow pool, which is good for a soak, but not really for a swim
3. Nungnung Waterfall
Nungnung Waterfall if found up in the mountains of Central Bali, at around 900 metres above sea level. The drive just to get there is a pleasant part of the experience, with expanses of rice fields and lush plantations accompanying your ride. Reaching the falls requires a descent down hundreds of steep steps, with several wooden gazebos where you can stop to catch your breath. After crossing a small bridge, the towering 50-metres-tall falls greet you with rushing water against a dense green valley.
4. Aling Aling Waterfall
The cool and forested Aling-Aling Waterfall is reachable down rice field paths near Singaraja in North Bali. You'll pass a collection of smaller weirs as you descend about 100 steps before finding your prize view. The 35-metre falls greets you with cool mist and rushing sounds. From a rocky peak, the water splits into 2 streams, with the one on the right being the larger. The plunge pool at the bottom is about 4 metres deep, so it's relatively safe to jump into and have a swim around. Take extra caution of the slippery and jagged rocks, though.
5. Gitgit Waterfall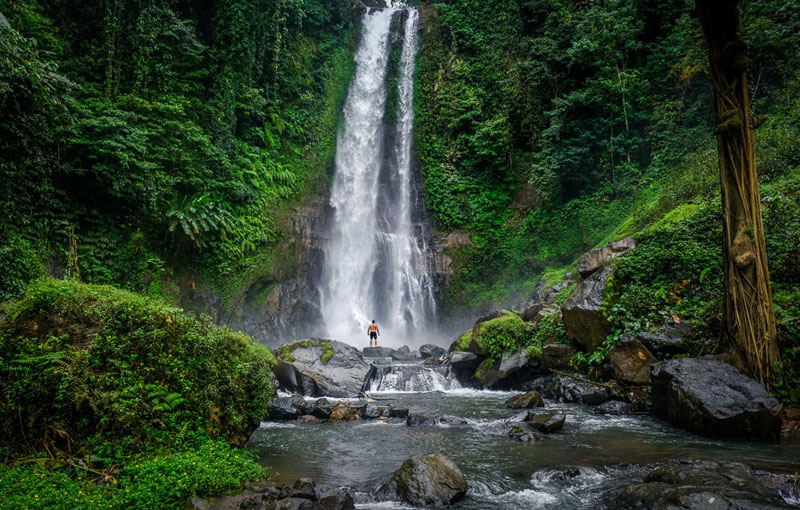 Gitgit Waterfall is one of Bali's most popular waterfalls, easily accessible from the main road connecting Bedugul and Singaraja. The waterfall is usually included as a natural landmark for trekking adventures and as a sightseeing stopover on tours to Lovina Beach and the island's northern region. Gitgit waterfall also provides a relatively easy trek, with a wooden boardwalk over a small gorge and cool streams. You can reach it on a 10-km drive south from North Bali's main town of Singaraja, or on an 80 km drive north from Kuta.